A C Clarke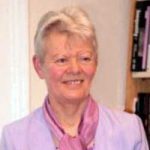 A C Clarke's many awards include the Royal Literary Fund Mentoring Scheme (2005), the Petra Kenney Award (2005) and the Brownsbank International Poetry Competition ( 2007). In 2006 she was also short-listed for the Hamish Canham Award and commended in the National Poetry Competition.
Her first full collection, Breathing Each Other In, was published in 2005 by Blinking Eye Press. She is an active member of Scottish PEN, was the Makar for the Federation of Writers (Scotland) for 2007-2008 and she lives in Glasgow.
Sample poems
Observed
Fr Meslier on his book
Oversteps publications
Fr Meslier's Confession (2012)
Messages of Change (2008)
Recent news
A C Clarke was recently highly commended in the annual Sentinel competition.

A C Clarke was highly commended in the Neil Gunn poetry competition and commended the Segora poetry competition.

Oversteps poets are well-represented among the prize-winners of the Poetry on the Lake poetry competition. In the open category, Hilary Elfick won second prize, Alwyn Marriage was short-listed, Michael Swan, Elisabeth Rowe and Alwyn Marriage were long-listed, and AC Clarke was highly commended in the formal category.

Three Oversteps poets made it to the National Poetry Competition long list this year: A C Clarke, Robert Stein and Tony Watts. Congratulations.

Radio 4′s Something Understood' on Palm Sunday included a poem from 'Fr Meslier's Confession' by A C Clarke.

A C Clarke has been long-listed in the National Poetry Competition.

Genista Lewes recently won 2nd prize in the Taachi Morris competition, and both she and A C Clarke were among the selected poets for the Ver poetry competition.

A C Clarke was commissioned to write one of the poems for the Commonwealth Games in Glasgow.
She was shortlisted for the Ver Open Poetry competition; and wrote a two-part article on factual truth in poetry for Artemis magazine.