A C Clarke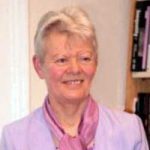 A C Clarke's many awards include the Royal Literary Fund Mentoring Scheme (2005), the Petra Kenney Award (2005) and the Brownsbank International Poetry Competition ( 2007). In 2006 she was also short-listed for the Hamish Canham Award and commended in the National Poetry Competition.
Her first full collection, Breathing Each Other In, was published in 2005 by Blinking Eye Press. She is an active member of Scottish PEN, was the Makar for the Federation of Writers (Scotland) for 2007-2008 and she lives in Glasgow.
Sample poems
Observed
Fr Meslier on his book
Oversteps publications
Fr Meslier's Confession (2012)
Messages of Change (2008)
Recent news
A C Clarke came second in the Segora competition.

A C Clarke continues to win an exceptional number of prizes. She has recently been awarded 1st prize in the Second Light competition, long poem category, 2nd prize in the Fred Downie competition, and a commendation in the McLellan poetry competition.

'Fr Meslier's Confession', A C Clarke's most recent Oversteps poetry book, was listed in the Poetry Book Society Spring Bulletin, which also included an intelligent and favourable review of the book.

A C Clarke was highly commended in the Sonnet or Not competition, judged by John Alcock.

January saw three new books from Oversteps: The Book I Never Wrote by Ross Cogan, Fr Meslier's Confession by A C Clarke, and Telling the Bees by Ann Kelley. All three of these poets have been published by Oversteps before, and have proved popular.

A C Clarke continues to win an impressive number of prizes. Most recently she has won the Stirling Council OfftheStanza competition, with her winning poem then being chosen as poem of the month on the Stirling council website; she was awarded third prize in the Ilkley Fetival Poetry Competition; and was commended in the Poetry on the Lake formal class for the second year running. Her pamphlet on the Anatomy Museum in Glasgow, 'A Natural Curiosity', will be launched at the museum on 22nd November.

A C Clarke (Messages of Change) has won this year's Grey Hen competition. She has also recently had poems published in Glasgow's literary magazine Gutter 4, Fras 14, Aberdeen University's Causeway and in Quantum Leap 54.

A new book by A C Clarke will be published by Oversteps before Christmas.